GSB Announces Grand Ambassador of the Year
by GSB Team
November 26, 2019
Grand Savings Bank is excited to announce Kristin Robinson, a CSR at our Siloam Springs location, as the Grand Ambassador of the Year. In 2019, Robinson was instrumental in organizing a Grand Impact event at Pour Jons in Siloam Springs.
Thank you for reading this post, don't forget to subscribe!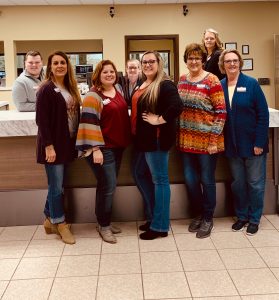 Additionally, she took the initiative to vamp up her own social media presence in an effort to promote the bank's social media posts and even wrote a blog post for the Life Is Grand blog about summertime activities in the Siloam Springs area.
Kristin has been with Grand Savings Bank for 3 years and lives in Gentry with her husband, Nick and their four children.
She also serves on the Green Team at GSB, a team focused on promoting environmentally sound practices, and she was a member of the inaugural Grand Planning group at Grand Savings Bank.
The Grand Ambassador team is a group of GSB team members that work as brand ambassadors promoting the bank's social media efforts, supplying information about community events, and serving as communication liaisons to all GSB markets.
---