GSB Welcomes Jackie Serrano as Retail Training Coordinator
by GSB Team
December 17, 2018
A transplant to Northwest Arkansas after having lived on both coasts as a child, Jackie Serrano is no stranger to navigating the diverse cultures and regions in the U.S., and it is, perhaps, this background that prompted her to seek a career in helping others.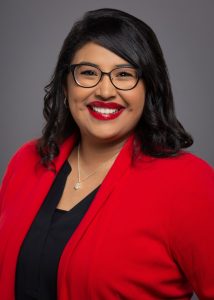 As GSB's newest Retail Training Coordinator, Jackie brings us a rich history in financial services where she has fostered a career in teaching skills that positively impact colleagues, customers, and community.  "Jackie's enthusiasm and commitment to serving the internal customer fit perfectly with Grand Savings Bank's promise to provide the very best financial experience to our customers and community,"  Dale Ford, Retail Operations Manager.
After starting off as a teller, Jackie soon discovered that her talents lie in coaching, and she shifted her sights to working in the training department.  There, she led initiatives that include diversity and cultural education training while honing her skills as a Training Specialist and lead FSR Trainer.
A long-time resident of NWA, Jackie graduated from Rogers High School and then earned her degree from the University of Arkansas with a Bachelors of Arts in Communications.  A member of the Junior League of Northwest Arkansas, she has been recognized for her work as a cultural ambassador and has recently completed the renowned Financial Peace University course. Starting in 2019, Jackie, along with her husband, will volunteer as a Financial Peace Coordinators, teaching this 9-week course to show participants how to navigate financial struggles in order to pay off debt and set aside money for emergencies using zero-dollar based budgeting. Jackie will also begin work on her Master's degree in Design Thinking & Innovation at John Brown University this spring.
Along with her husband and son, Jackie is excited to be a part of the GSB family, and we know she will propel our training program to grand heights.  Welcome aboard Jackie!