Welcome Holly Wheeler to GSB
by GSB Team
September 7, 2018
We are growing in grand style!  Grand Savings Bank is happy to introduce our new Vice President and Fayetteville Team Lead, Holly Wheeler.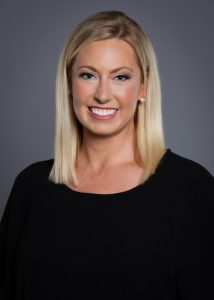 With more than 17 years of experience in the Northwest Arkansas banking industry, Holly brings a comprehensive and impressive background in consumer, commercial, and mortgage lending and personal wealth management to GSB.  Having earned her degree from the University of Arkansas and certified by the American Banking Association Lending School, Holly is an active member of the NWA community who is informed, skilled, and devoted to serving consumers and businesses in the NWA community.  Natalie Bartholomew, Grand Savings Bank CMO explains, "Holly's civic mindedness and demonstrated commitment to her customers and community fit beautifully with GSB's mission and promise.  We are excited to have her on our team.".
Holly is also involved with the Junior League of NWA, having maintained active membership since 2004 and serving on the board in 2010 and 2011.  She is also a Director and officer of the Tri Delta House Corporation and the NWA Tri Delta Alumni Chapter. Grand Savings Bank welcomes Holly aboard!
NMLS 564045 | Member FDIC | Equal Housing Lender