Bank with Confidence
by GSB Team
June 12, 2023
Ten years ago, Grand Savings Bank gained the partnership of a great group of investors out of Northwest Arkansas and Northeast Oklahoma. Since then we've grown our reach to 13 branches and developed GSB into one of the most trusted banks in the country! But above all, we are proud to know that you, our customers, trust GSB as your financial partner. Our goal is to maintain this level of excellence and keep your trust for years to come.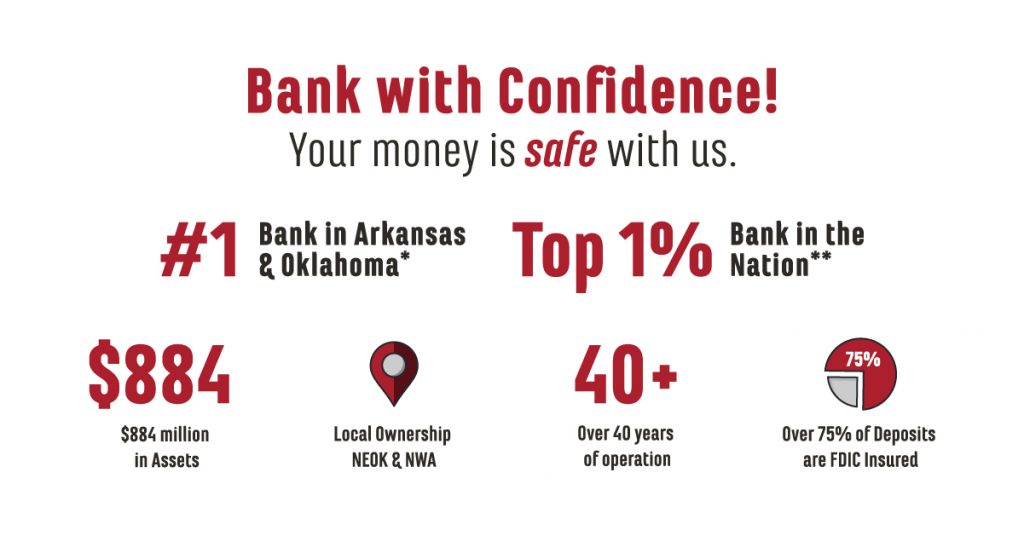 Highly Diversified Deposits


Well capitalized at 9.52%


Strong Liquidity at 18%


Executive Management Team with 146 combined years of banking experience


Over 75% of deposits are FDIC insured compared to the national average for community and regional banks which is 60%


Strong community involvement with our employees involved in over 40 organizations
*Seifried and Brew Performance Risk Essentials report- 80 banks in the peer group from Oklahoma and Arkansas. $100 million to $5 billion in assets excluding sub-chapter S banks.
**Seifried and Brew Performance Risk Essentials report- 2030 banks in the peer group nationwide. $100 million to $5 billion in assets excluding sub-chapter S banks
Numbers based on March 31st, 2023 filings