Current Job Openings
---
A Quick Word from our CEO
When we call ourselves "your community bank," we don't take the sentiment lightly. When you choose to bank with Grand Savings Bank, we not only understand but appreciate that you have many choices where to bank, and you have entrusted us with your finances. There are a lot of financial institutions out there competing for your business, and we honor and thank you for choosing GSB to be your community bank.
In the last few years, Grand Savings Bank has grown into twelve very diverse markets across eastern Oklahoma, Northwest Arkansas, and the River Valley. One of the things we understand best is that each community, like each individual, has unique needs, goals, and plans. It is for that very reason that we are committed to empowering our team to deliver the very best financial experience for our customers. In fact, recognizing that banking solutions must be as flexible and varied as the communities they serve is so important to us, that we made it our mission.
In my time at GSB, I have come to know some of the most talented, dedicated, and knowledgeable people in the industry. I have watched our employees shape GSB into something special by providing excellent service, quality products, and a welcoming community. Our people are, without a doubt, our greatest asset. Maybe it's because they live, work, and play in the communities we serve. Or maybe it's because GSB recruits and hires awesome people. Either way, they are the driving force behind Grand Savings Bank's success.
As Grand Savings Bank continues to develop in new communities, we promise to keep learning and adjusting with the ever-evolving financial services industry. But more importantly, we promise to keep listening and serving you, our customers and our communities, here at GSB, where life is GRAND.
Thank you for your faith in us,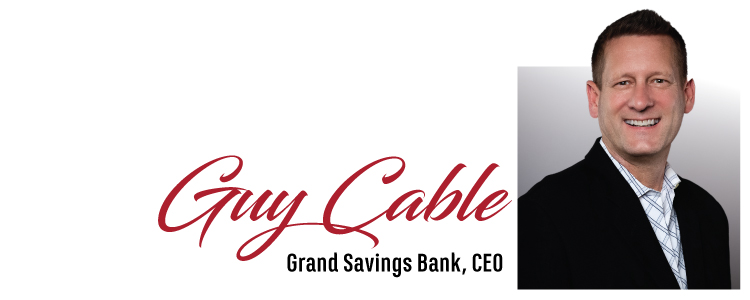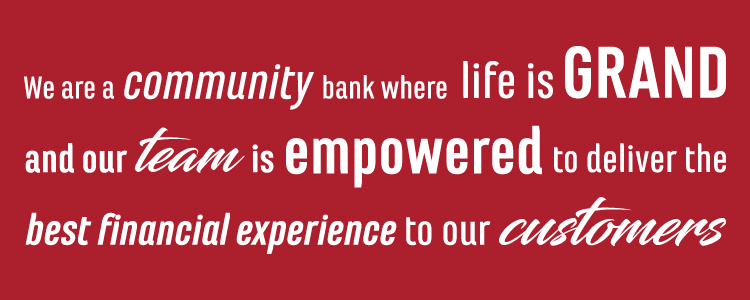 Safety and Soundness: The entire credibility of Grand Savings Bank is staked upon the health of our institution and our customers' dependence upon the competency and complete reliability of every team member they encounter.
Staff Interaction and Development: Great teams are built through earned mutual trust among all members, as well as the capability and knowledge of each person to meet the needs and challenges of his or her role in order to contribute fully to the success of Grand Savings Bank.
Customer Interaction/Success: Because every Grand Savings Bank customer is entrusting us with his or her financial security and wellbeing, every team member has a responsibility to build the kind of solid, friendly, professional rapport that will earn and maintain the complete trust of the individuals we serve.
---
Grand Savings Bank is an affirmative action and equal opportunity employer and adheres to EEO Guidelines to offer employment without regard to race, color, religion, marital status, sex, sexual orientation, gender identity, pregnancy, age, national origin, disability, veteran status, or any other basis. All qualified applicants will receive equal consideration for employment.