Grand Mobile Wallet

Digital wallet lets you pay at the register with just your phone.

Learn More

Simplify Your Life!

Get rid of clutter and stacks of documents by enrolling in E-Documents. Call our Customer Care Center to get signed up or follow these 4 easy steps.

Sign Up Now

Your mortgage made easy.

Your perfect home is closer than you think. Our mortgage professionals have the expertise to make your dreams a reality.

Contact Us Today

Digital Banking. Simplified.

Keep Your Finger on the Pulse of Your Finances

Learn More About Our Digital Tools
Ready to Begin?
Choose one of the following life situations to see how we can meet your specific needs.

Buying a Home?
We want to help get you into the home of your dreams. We've got all the resources you need to help you shop for a home and know what to expect out of the mortgage process.
Mortgage Loans
Life is Grand Check out our blog for valuable tips and financial insights.
Start Reading
Access Your Account Wherever. Whenever.
We know you don't always have time to stop by a GSB branch. Bank better wherever you go with GSB's mobile app.
You can keep track of your transactions in real-time, deposit checks, and pay bills, all while waiting for your oil to be changed or standing in line at the coffee shop. Our software features the latest in ease and security, allowing you to utilize mobile banking with confidence, no matter how—or where—you use it.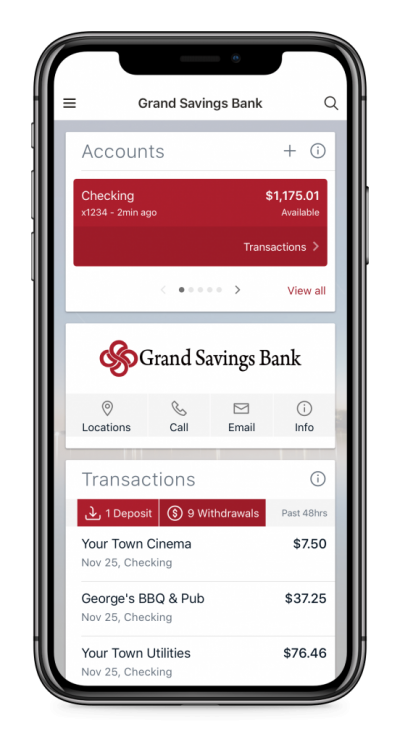 Find a Branch or ATM
We'd love to talk with you face-to-face. Stop by your local branch today.
Our Locations
Send a Message
Questions? Comments? We'd love to hear from you.
Contact Us
Our Blog
Bank with Confidence
Bank with Confidence
Ten years ago, Grand Savings Bank gained the partnership of a great group of investors out of Northwest Arkansas and […]
Episode 10: Celebrating 10 Years of Growth
Episode 10: Celebrating 10 Years of Growth
Maddye McConnell, Marketing Officer at Grand Savings Bank, interviews Tyler Steele, Vice Chairman of Grand Savings Bank, about the growth […]
Celebrating 10 Years of Growth
Celebrating 10 Years of Growth
This April, we're celebrating an important milestone: the 10th anniversary of our expansion to Northwest Arkansas! While we began serving […]