We're Here for You

Grand Savings Bank is committed to the health and well-being of our customers and employees. Our Oklahoma lobbies are open but our Arkansas lobbies are by appointment only. Our drive-thrus will remain open at the branches that have a drive-thru.

Check Out Our COVID-19 Resources Page

Is your house working as hard as you?

Do even more with a Home Equity Line of Credit

What if you could use your home's equity to gain a little more financial cushion—for renovations, repairs, or anything that might come up? Lighten the load with a Home Equity Line of Credit.

Find Out How Today

New Digital Banking Tools Are Here!

GSB upgraded our online and mobile banking experience to a cleaner, simpler, more secure platform.

Learn More

They grow up so fast—your savings, that is

The simple tool with a big payoff

Certificates of deposits make saving easy. With interest rates like these, what are you waiting for?

Invest in Your Future
Ready to Begin?
Choose one of the following life situations to see how we can meet your specific needs.

Buying a Home?
We want to help get you into the home of your dreams. We've got all the resources you need to help you shop for a home and know what to expect out of the mortgage process.
View Today's Rates
Life is Grand Check out our blog for valuable tips and financial insights.
Start Reading
Access Your Account Wherever. Whenever.
We know you don't always have time to stop by a GSB branch. Bank better wherever you go with GSB's new mobile app.
You can keep track of your transactions in real time, deposit checks, and pay bills, all while waiting for your oil to be changed or standing in line at the coffee shop. Our software features the latest in ease and security, allowing you to utilize mobile banking with confidence, no matter how—or where—you use it.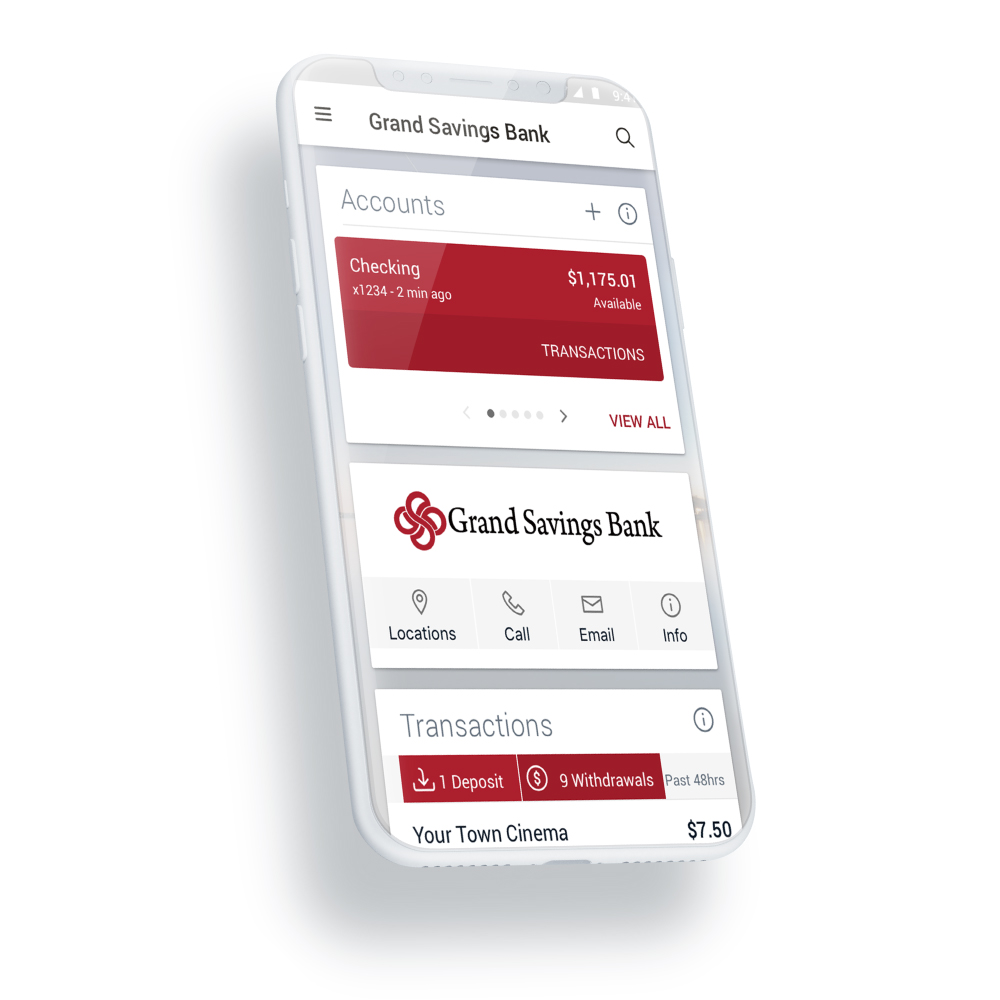 Find a Branch or ATM
We'd love to talk with you face-to-face. Stop by your local branch today.
Our Locations
Send a Message
Questions? Comments? We'd love to hear from you.
Contact Us
Our Blog
Episode 1: Grand Savings Bank History
Episode 1: Grand Savings Bank History
Grand Savings Bank Vice Chairman, Tyler Steele chats with Chief Administrative Officer, Natalie Bartholomew about Grand Savings Bank's history and […]
5 Reasons to Spend Local in Your Community
5 Reasons to Spend Local in Your Community
Shopping at Local Businesses Improves Your Life and Your Community As a community bank, Grand Savings Bank loves our local […]