National Small Business Week | 3 Reasons Grand Savings Bank Supports Small Business
by GSB Team
April 29, 2018
National Small Business Week: April 29 – May 5, 2018
The U.S. Small Business Administration was created in 1953. The federal agency was established to aid, counsel, assist and protect the interests of small business, to preserve free competitive enterprise and to maintain and strengthen the overall economy of our nation. In 1963, President Kennedy established National Small Business Week to celebrate America's entrepreneurial spirit and highlight the important roles that small businesses play in our economy.
Three Reasons Grand Savings Bank Supports Small Business
·       Local Economic Impact: Small businesses drive local economies by bringing innovation and growth to the communities they serve. Small businesses often stimulate economic growth by providing employment opportunities to the residents of the local communities.
·       Future Development: Each large corporation began as a small business. One of the largest corporations in the world, Walmart, began as a small business and evolved into a Fortune 500 powerhouse. Small businesses that evolve into large businesses often remain in the community in which they were originally established.
·       Schools and Local Government: As consumers patronize small businesses, they are keeping their money local. The revenues generated produce increased local tax dollars. This money is then returned directly to the local economy by providing funding for education, fire and police protection and roads.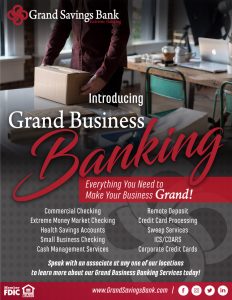 Grand Business Banking
Grand Savings Bank has all your business banking needs covered! From Direct Deposit for your employees to Credit Card Processing, our experienced team of Business Services professionals can help customize a program to best suit you and your business!
United States Small Business Administration Facts
·       9.9 million women-owned small businesses which employ 8.4 million employees.
·       3.3 million Hispanic-owned small businesses which employ 2.3 million employees.
·       2.6 million Black- or African American-owned small businesses which employ 975,000 employees.
·       2.5 million veteran-owned small businesses which employ 5 million employees.
·       272,000 American Indian/Alaskan Native-owned small businesses which employ 208,000 employees.
---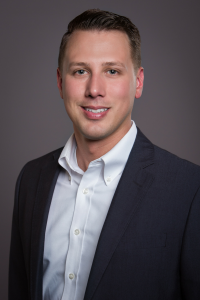 Dale Ford serves as Vice President, Deposit Training Coordinator for Grand Savings Bank. He is a 10-year banking veteran and offices out of the Bentonville, Arkansas location. Ford attended Northwest Arkansas Community College and the University of Arkansas. He currently sits on the Greater Bentonville Area Chamber of Commerce Small Business Committee and is a former Main Street Rogers volunteer.