5 Budgeting Tips to Build a Better 2019
by GSB Team
January 25, 2019
This is the time of year when most of us look around and take stock.  It's a time of renewal, hope, and excitement, and a time to anticipate all the cool things a new year has to offer! With a new round of birthdays, holidays, social events, vacations, volunteer opportunities, and so forth, each of us will also, in all likelihood, experience something unexpected. In order to take care of those unforeseen things, it's really important to allocate finances so that the unexpected doesn't turn into the unspeakable. The way to do that is to learn to budget.
Since money does not grow on trees, this means sitting down and working on a budget. In my household, this is a family undertaking. It is our opportunity to work together to teach our kids good money management skills that will help them throughout their lives, and it's our time to really look at what matters to each of us individually and to our family as a unit.  Instead of seeing it as a restriction of our spending, we focus on spending our money on things that matter while also setting aside a bit for those "just in cases" that everyone experiences.
Starting a budget will absolutely help you to better understand your finances, but it doesn't have to be difficult. 
5 Budgeting Tips to Build a Better 2019
Just Get Started
Choose the platform that best suits you. Whether you create your budget on paper, on a computer, or with a budgeting app, just make sure you access it on a day to day basis. Start by writing all of your monthly expenses down. It works like a brain dump, and it's a great way to work up a rough draft. If you like working on a computer, there are several different budgeting templates available.  One of my favorite programs for budgeting is Microsoft Excel. If you choose one of these two ways to budget, remember the key is to touch your budget several times a week in order to stay on top of it.  Budgeting apps are another way to stay on track by giving you real-time access on-the-go. Whatever way you choose to budget is fine. The main point is to get started!
2. Track Your Spending
The key to staying on budget is making sure you track your spending, and there are two main ways to do this – manually or electronically. Manual trackers can keep a receipt file, use a notebook to write down transactions, or request a ledger from their banks.  Electronic trackers will prefer to use their bank's online or mobile banking service and will find any number of expense tracking apps available to meet specific needs.
3. Find an Accountability Partner
Personally, it was a little hard for me to admit that I needed help when it came to managing my personal finances. After all, I am an industry professional, but finding that one person who will hold me accountable has really made a huge difference. I am the spender in our family, and my husband is the saver, and we have found ourselves in disagreement about how to allocate our funds many times. As my accountability partner, though, we have had to work at communicating, coming up with legitimate compromises, and really being honest with each other about our goals, and our money conversations have gotten easier over time. For those who aren't married, choose a trusted friend, sibling, parent, or financial professional you are willing to share your finances with and who will be honest with you. Honesty is key when it comes to accountability!
4. Figure Out Your "Why"
The whole act of setting up and following a budget can feel like such a chore if you don't have a clear understanding of the purpose behind it.  Budgeting takes effort. That's just all there is to it.  In order to keep up that effort, it is important that you know clearly what you are working toward.  Is it a trip abroad or your daughter's dream wedding?  Want to retire early or get out of debt? Maybe there's an extended family vacation in your future, a renovation you've been wanting to tackle, or a new home you've been eyeing.  Or maybe you just want to not be blind-sided by an unexpected emergency.  Whatever the reason, determine your "why," and keep it front and center. As a visual person, I created a vision board for our family.  A small poster with cut out pictures of a beach resort in St. John, a University of Arkansas logo with a school picture of our son (because, #WPS), and a large red cross, it sits on a shelf in our home office to remind me of what we are working toward – of our "why". 
, Revise, and Carry On
Much like many other New Year's resolutions, budgeting only works if you develop small, sustainable, achievable habits that make you feel better and improve your life.  By taking these few steps, you can create actions that will serve you for the rest of your life. Once you see that sticking to your budget pays off by helping you reach one financial goal, then you will want to start working on the next one. Revisit your budget monthly, and make revisions as your needs and goals change. Work with your accountability partner and make sure your "Whys" are clear and achievable.  If they aren't – adjust. By making just a few, consistent, do-able changes, you will be pleasantly surprised at how quickly budgeting becomes a habit.  Good luck.
---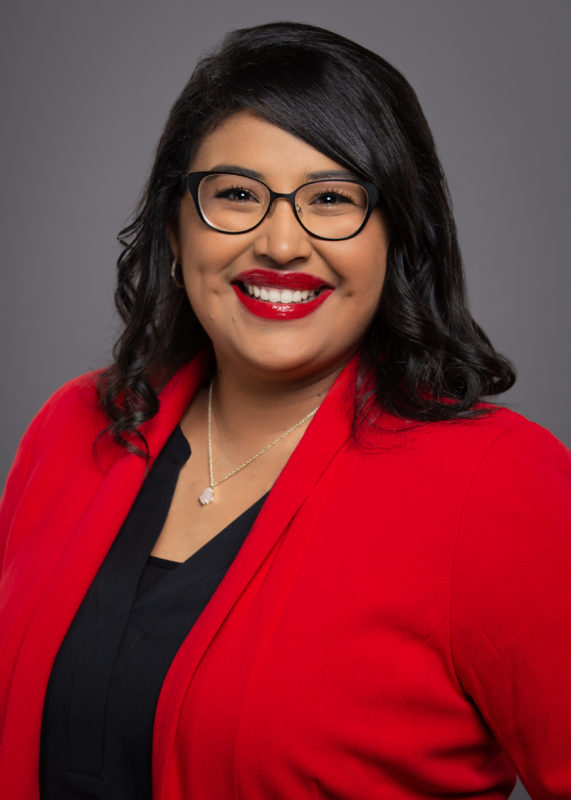 Jackie Serrano is the Retail Training Coordinator at Grand Savings Bank. Jackie bring a rich history in financial services where she has fostered a career in teaching skills that positively impact colleagues, customers, and community.  A long-time resident of NWA, Jackie graduated from Rogers High School and then earned her degree from the University of Arkansas with a Bachelors of Arts in Communications.