5 Reasons to Spend Local in Your Community
by Madelyn McConnell
October 21, 2020
Shopping at Local Businesses Improves Your Life and Your Community
As a community bank, Grand Savings Bank loves our local communities. During these unprecedented times, it's even more critical to support local businesses as much as possible. We're getting close to the holidays, so we wanted to offer some reasons to spend local in your community.
Check out our top 5 reasons to shop locally and the impact it can have on your life and the life of your neighbors.
1. You surround yourself with special things you can only get locally.
Local businesses carry a wid­er array of unique products because they buy for their own individual markets. You wouldn't want your house to look like everyone else's in the U.S., so why would you want our community to look that way? Locally owned businesses pick the items and products they sell based on what they know YOU like and want. Talk about buying power!
2. These lovely, local specialties make our community a destination.
Since you're shopping local and supporting these businesses, they are growing and offering even MORE cool things! The more interesting and unique our community, the more we will attract new neighbors, visitors, and guests. This benefits everyone!
3. You save yourself money. Yes, you read that correctly. You save yourself money!
Shopping in a local business district means less infrastructure, less maintenance, and more money available to beautify our community. Also, spending locally instead of online ensures that your sales taxes are reinvested where they belong: in our community. If you're looking for the ultimate good excuse to go shopping…this is it!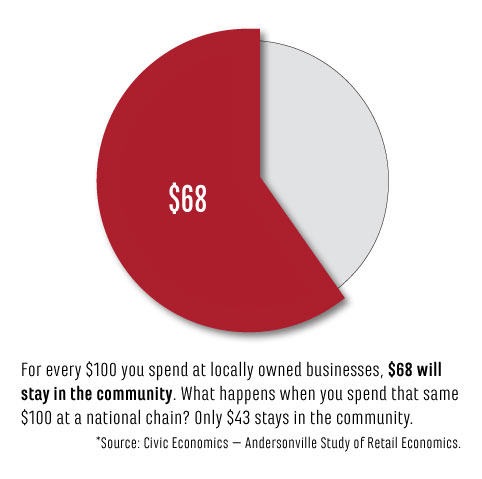 4. You provide for those in need and help save natural resources.
Local business owners know you, and you know them. Studies have shown that local businesses donate to community causes at more than twice the rate of chains. Buying from a locally owned business also conserves energy and resources in the form of less fuel for transportation and less packaging.
5. You strengthen our local economy and create local jobs.
According to a study by Civic Economics, for every $100 you spend at locally owned businesses, $68 will stay in the community. What happens when you spend that same $100 at a national chain? Only $43 stays in the community. Also, local businesses are better at creating higher-paying jobs for your neighbors so when you shop locally, you help create jobs for teachers, firemen, police officers, and many other essential professions. 
Local business owners are your friends and neighbors and they have a vested interest in knowing how to serve you. They're passionate about what they do and are nurturing a strong community. That is reason enough to spend local in your community!
As you're planning your holiday shopping list, consider making it a priority to #SpendLocal!
---