Back to School Supply Drive
by GSB Team
August 6, 2018
Summer is quickly drawing to a close and that can only mean one thing- it's Back to School time! At Grand Savings Bank, we understand that school supplies can be costly and we want to do our part in helping our local elementary schools with providing supplies for those less fortunate.
Grand Savings Bank will be hosting a Back to School Supply Drive from August 3rd until August 15th and will accept drop-offs at all of our 11 locations throughout Northeast Oklahoma, Northwest Arkansas, and the River Valley. While you are there, enter to win a $250 GRAND cash prize.*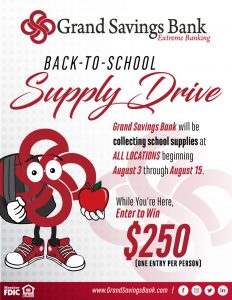 Join us today and help make Life Grand for our communities!
*One entry per person. Employees and their immediate families not eligible to win.