Welcome Bob King to GSB
by GSB Team
August 8, 2018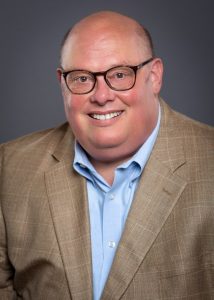 Grand Savings Bank is excited to welcome our new Executive Vice President of Commercial Lending in Grand fashion.
Bob King, a leader in an industry that has evolved exponentially in the last several decades, brings to us more than 40 years of experience in business development and banking management. He has served as the Senior Associate Athletic Director at the University of Oklahoma from which he also earned his Bachelor of Science degree in Finance. Bob is an honored recipient of the Arkansas Bankers Association 40 Year award and has served actively in both the Arkansas and Oklahoma Bankers Associations.
Bob's demonstrated commitment to community service as a member on the Boards of the Fayetteville Chamber of Commerce and the UAMS Advisory Board align perfectly with GSB's commitment to positively impacting our communities by providing diverse financial products and services that support the needs of our local individual and business customers. As Guy Cable, Grand Savings Bank's CEO, articulated, "Bob brings a wealth of knowledge and an extensive history in banking to GSB. We are thrilled to add him to our team and are looking forward to opening a location in Washington County."
Our mission: We are a community bank where life is GRAND, and our team is empowered to deliver the best financial experience to our customers.
GSB offers 11 locations and ATMs in Northwest Arkansas, the River Valley, and Northeast Oklahoma. For more information, visit us at grandsavingsbank.com.