---

Grand Savings Bank is open for business
Grand Savings Bank remains committed to the health and well-being of our customers and employees. Our lobbies are open and our staff is following CDC guidelines by wearing masks, practicing social distancing, and limiting the number of customers into our lobbies throughout the day. As always, we are happy to serve our customers through our Drive-thrus, ATM's, our Customer Care Center, and digital banking tools. Contact the Customer Care Center at 1.800.460.2070 or at customercare@grandsavingsbank.com.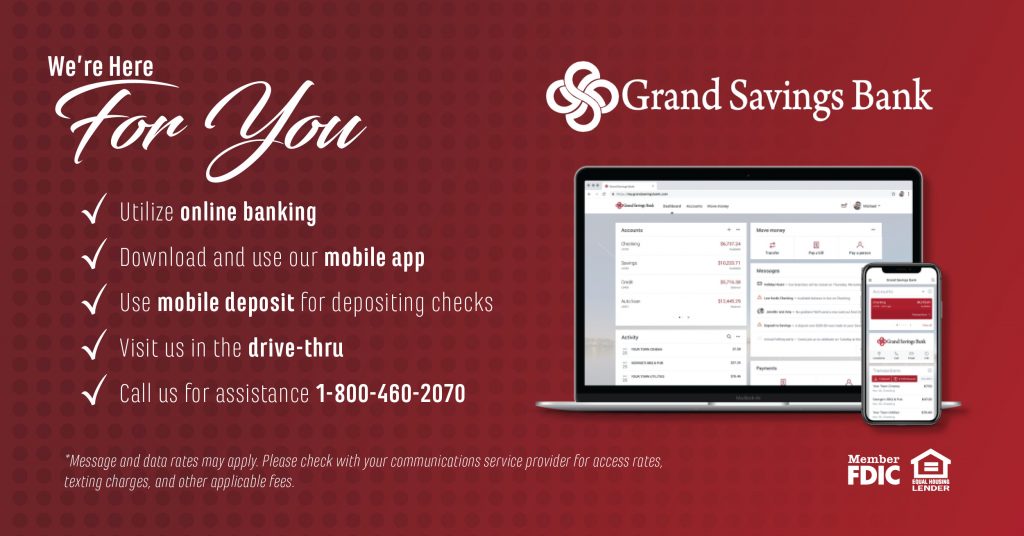 ---
Economic Stimulus Payment Resources
The American Rescue Plan Act of 2021 was approved by Congress and signed into law by President Biden on March 11th. Below are helpful links regarding the Economic Stimulus Payments that will be issued in the coming days and weeks.  

Economic Impact Payment (EIP) Card FAQs
IRS Economic Impact Payment Center
IRS Get My Payment FAQs
---

SBA Resources
We understand you may be experiencing many challenges during this uncertain economic period, and your concerns may feel very overwhelming as you work to keep your business afloat. We are fully committed to our role as your financial services partner—not just when things are easy, but whenever you need us. To ensure you are aware of loan options designed to help in exactly times like these, we would like to offer you some important information as well as additional support if you have questions.
PPP Second Draw Program
Grand Savings Bank is now accepting applications for the PPP Second Draw. If you have questions about the second round of PPP funding, please contact your lender by calling our Customer Care Center at 1.800.460.2070.
These helpful resources will assist in navigating through this process:
Revised 1st Draw Application
2nd Draw Application
2nd Draw Top Line Overview
PPP Second Draw IFR
PPP IFR
Guidance for Minority, Underserved, Veteran, and Women Owned Business Concerns 
Economic Injury Disaster Loan (EIDL) resources:
Small Business Administration (SBA) Economic Injury Disaster Loans (EIDL)
PPP Forgiveness Update: Grand Savings Bank has developed an online application process for PPP forgiveness. PPP customers have received an email with a link to begin the application.  If you haven't received or cannot locate the email, please contact your Grand Savings Bank loan officer.
If you have questions about the application process please contact your loan officer or visit SBA.gov.
The links below are helpful resources including the PPP Forgiveness application(s), instructions, and the program details and rules from the Treasury.
PPP SBA Form 3508 Forgiveness Application
PPP Loan Forgiveness Application Instructions
PPP Forgiveness Application 3508EZ
PPP Loan Forgiveness Application 3508EZ Instructions
PPP Loan Forgiveness Application Form 3508S
Assistance for Small Businesses-U.S. Treasury

---

Digital Banking Tools
Our digital banking tools make it safe and easy to bank from the comfort of your home. Click here for more information.
---

What does "Member FDIC" Really Mean?
Grand Savings Bank is a strong Member FDIC Bank and we are here for you. Click HERE for additional information about FDIC coverage.
---

Coronavirus Scams
Be alert of various Coronavirus related scams that are currently going around and don't fall victim to their schemes. Scammers sometimes send fake emails and text messages and even go to the extreme to set up websites selling phony products. They do these things in an attempt to take your money and obtain your personal information to use to their benefit, but at your expense. Scammers often take advantage of vulnerable consumers in difficult situations, and they are now us the recent fears about coronavirus (COVID-19) to continue their nefarious practices.
Scams associated with coronavirus (COVID-19) could include emails or social media posts that appear to be selling unproven preventative products or medical products that you pay for but are never delivered. Other scams may attempt to steal consumers' money and personal information by soliciting donations to help victims or pose as a legitimate organization by sending informational emails in order to trick you into opening malicious email attachments. As with any newsworthy topic, vigilance is imperative. It is important that you are aware of the possibility that fraud attempts may occur and also that you know what steps to take to help prevent being a victim of fraud.
Here are a few tips to help protect yourself from scams:
Pay close attention to emails claiming to be from the World Health Organization (WHO), the Centers for Disease Control and Prevention (CDC), or other "experts" claiming to have information about the virus. For current information about coronavirus (COVID-19), visit the *CDC
Don't click on links from sources you don't know. This will help stop a potential computer virus from being downloaded to your computer or device. Take the opportunity now to ensure your anti-virus software is up to date.
Avoid advertisements claiming to provide methods of prevention, treatment or cures for coronavirus (COVID-19). If there is a medical breakthrough, you will not hear about it first through an advertisement.
Do your own research or fact-checking before you donate to a charity. Just because the requestor appears to be reputable with a logo or seal, or the request includes words like "government" or "CDC" doesn't always mean it is legitimate. In addition, if someone asks for donations in the form of cash, gift card or by wiring money, don't fall for it. If there is an organization that you would like to make a donation to, contact them directly and inquire about options they have for supporting specific causes.
Scams succeed because they look real and catch you off guard when you aren't expecting it. By incorporating these tips into your daily routine, you can reduce the likelihood of becoming a fraud victim.
*Indicates a third-party site not operated or managed by Grand Savings Bank.
https://oag.dc.gov/blog/consumer-alert-beware-coronavirus-scams
https://www.consumer.ftc.gov/blog/2020/02/coronavirus-scammers-follow-headlines
---

Dear Valued Customer,
At the forefront of everyone's minds right now are how businesses will be slowly reopening as the coronavirus (COVID-19) continues its course. As your bank, we want to assure you that we take these concerns very seriously and are 100% committed to providing for your financial needs while also balancing the critical importance of keeping our customers and employees healthy and safe.
We place enormous value on your trust in us and make it our entire mission to ensure your assets are secure and any possible service disruptions are minimized. To deliver on our commitment to you, we are taking the following steps:
Our lobbies are open for essential business with the following guidelines:
All employees are following directives given by the CDC (Centers for Disease Control and Prevention). This includes wearing masks, implementing a plexiglass barrier between the employees and the customers, and practicing social distancing. Our employees have been informed and trained on how to provide the best service possible while keeping the customer as safe as possible.
We will be limiting the number of people in a branch at any given time. In other words, when you visit your local branch, you can rest assured you will not be met with a crowd of any kind.
Our leadership team is staying constantly abreast of recommendations from the Center for Disease Control (CDC), along with state and local health officials, to keep fully informed and able to educate our employees about any and all measures to stem the spread of COVID-19. Here are direct actions we have already taken:
Frequent, routine cleaning of all work areas and commonly touched surfaces in all of our branches
Availability of hand sanitizer for both employee and customer use
Promotion of frequent handwashing with anti-bacterial soap and other important hygienic practices
Requesting all employees avoid unnecessary physical contact with coworkers and customers, such as handshaking or hugs
Requiring all employees to stay home if they are sick and to follow the advice of their doctor—as well as immediately sending home any employee demonstrating a fever or symptoms of illness
Providing additional 14 days of paid leave to any employee who must miss work in the case of a department or branch closure, or if they must be absent due to contracting COVID-19
There are some things you can do to make certain you have the banking services you need while reducing your own personal likelihood of either contracting or spreading COVID-19:
Use the digital self-service banking tools already available to you 24/7. With our Online and Mobile Banking, you may access your accounts at any time on your computer or mobile device to check your balances, pay bills, make check deposits or transfer funds, chat with customer care and control your Grand Savings Bank debit card. If you are not already using this service, you may enroll here.
Contact us by phone with any questions or need for online banking support at 1-800-460-2070.
Email us with questions or concerns at customercare@grandsavingsbank.com.
Lastly, please be very cautious about communications and claims you may receive about COVID-19 by text, email or phone.  Unfortunately, there are individuals who use difficult situations like this to exploit others, so we strongly advise staying informed about scam activities by visiting the Federal Trade Commission website here.
As always, we are so thankful to have you as a customer and for the trust you place in us.
Wishing you health,
Guy Cable
CEO | Grand Savings Bank