CyberSecure Holiday Shopping
by GSB Team
November 28, 2019
Holiday shopping season is in full force.  Unfortunately, it's the season for online scammers as well.  These scammers want to steal your identity and even drain your wallet. Most consumers plan to use their smartphone or tablet to research or make a purchase this holiday season.  Don't let cyber grinches turn your holiday fun into holiday havoc; make sure you're exercising cybersecure holiday shopping.
While the thought of getting ripped off during the holiday season is enough to make anyone say "Bah, humbug!" there are ways you can protect yourself while holiday shopping online and ensure you're having a cybersecure holiday shopping season.
Cheers to a cybersecure holiday season!
Ship to a secure location
Home delivery is on the rise with online shopping, and with it comes an increase in thieves who steal packages from doorsteps. If no one's home to accept a package, consider shipping to your office or another safe place. UPS, Amazon, and FedEx all now have shipping lockers available for secure deliveries.
Don't save your credit card information on your accounts
While it may be convenient to store personal and payment information in your online accounts, it does come with risk. If a hacker accesses your favorite shopping account, it could then be easy for them to make fraudulent purchases with the credit card information you've saved in that account. That's why it's best to either skip the autofill option or try using a password manager, which provides an extra layer of protection to your account information.
Consider using Apple Pay or Google Pay for a second layer of protection
Credit card fraud is a serious problem in the U.S., but using a digital wallet or app, such as Apple Pay or Google Pay, can increase your transaction security.
The digital wallet obscures your payment card information, so the merchant sees a unique, one-time code that's only good for that purchase. So, if a store employee or a hacker tries to get their hands on the store's payment information, they wouldn't be able to see your credit card or bank details.
Use prepaid debit cards
Using a prepaid debit card removes a lot of the risk that goes with online shopping. These are different from debit and credit cards because the money isn't connected to your credit history or to a bank account. Just load money onto the prepaid debit card, use that balance for purchases and reload when needed. So, if a scammer gets hold of the card information, the crime pretty much ends there. The crook can't open new credit accounts in your name, drain your checking account, or make purchases over the amount you've already loaded.
Don't make purchases on public Wi-Fi
Shopping online usually means giving out information that an identity thief wants, like your name, address, and credit card information. It's never a good idea to shop online or log in to any website while you're connected to public Wi-Fi.
After purchasing gifts, keep an eye on all your accounts and bank statement
Check your statements for fraudulent charges at least once a week or set up account alerts. When you receive a text or email about a charge, you can check the message and likely easily recall whether you recognize the charge and made the purchase.
Shopping heats up in November and December, and a lot of those transactions occur on laptops, tablets, and mobile devices. Amid the increase in e-commerce, financial fraud climbs, too.
8% of consumers surveyed in 2018 said they were a victims of identity theft during the holiday season.
43% of online shoppers surveyed said their identity theft occurred holiday shopping online.
56% of holiday shoppers plan to make purchases online in 2019.
$1,047.83: average amount that American consumers plan to spend on holiday shopping in 2019.
Up to $149 billion: online holiday shopping sales for 2019 (projected), from November to January.
84% of holiday shoppers plan to use their smartphones to research products and look for coupons before buying in-store.
18%: The amount online sales are projected to grow in 2019 compared with 2018.
 (source: Norton LifeLock)
STOP. THINK. CONNECT.
Being a safe and secure shopper starts with STOP. THINK. CONNECT.™ Take security precautions, think about the consequences of your actions online, and enjoy the conveniences of technology with peace of mind while you shop online.  Check out additional security tips by visiting the National Cyber Security Alliance website at staysafeonline.org, and make sure you have a cybersecure holiday shopping season!
---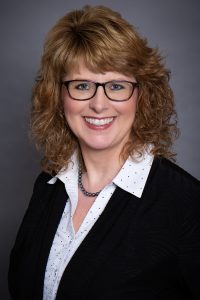 Leah Morgan, Chief Operating Officer

I am a lifelong resident of NE Oklahoma; I have a Bachelor's degree in Computer and Information Sciences from Northeastern State University.  Being a small business owner for several years, I understand an "all in" attitude when it comes to being successful. In 1999, I became an Accredited ACH Professional (AAP), and truly enjoy all areas of payment systems.  I am currently the Chief Operations Officer and Information Security Officer at Grand Savings Bank helping to establish vision, strategy and protection of our information assets and technologies. Additionally, I enjoy giving back to our community through the Delaware County Historical Society and many other local organizations.
I have three sons, Jacob, Taylor and Kaden, and I am engaged to my sweetheart, Terry. We love football, Go Jay Bulldogs, Boomer Sooners and Kansas City Chiefs!  I enjoy gardening, diving, live music and history.
---