Grand Conversations: 5 Questions with Jenny Marrs
by GSB Team
November 6, 2017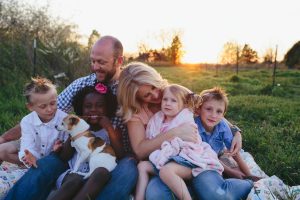 In our new series, Grand Conversations, we will visit with our neighbors and customers and bring you great stories about the people and businesses in our communities. In our first installment, we visit with Jenny Marrs, (she and her husband Dave are customers and shareholders of Grand Savings Bank), to talk about their recent big news.
Grand Conversations: 5 Questions with Jenny Marrs

1. You have certainly had a busy summer, tell us a little about what's been going on with you and your family:
We knew the month of June would be busy (and were so thankful my mom flew in to help us out with our kiddos!) as we restored and remodeled a 100+-year-old home for the filming of our pilot episode of "Almost Home" on HGTV. As soon as we wrapped filming, we opened The Berry Farm for our inaugural harvest season. The farm is our family's blueberry and blackberry farm benefitting an agricultural training program for orphaned children in Zimbabwe (in partnership with Help One Now).
2. Our team recently attended your Help One Now Gala, tell us why this organization means so much to your family:
Where do I even begin? This journey for our family has been years in the making. When we first started delving into the orphan crisis globally through our adoption, we were overwhelmed by the scope of need. After visiting our daughter's birth country and her orphanage, we literally could never go back to our old lives. Everything shifted for us and we knew we had to do something. That something started very small, we raised money to feed a few orphanages for a couple of months. We just kept doing the next small thing. We continued to remind ourselves that we would never be able to help everyone because it often felt like our work was insignificant during that time. We knew the kids who were in our program – we had held them and played soccer with them and danced with them. We knew that the billions of people who live in extreme poverty globally couldn't benefit from our work but the kids we knew there in a small orphanage in the slums of Kinshasa, DR Congo, could. Our work grew and we started a non-profit organization to help manage the funds coming in. We partnered with an organization in Congo and we worked with a friend locally to launch The Bentonville Sessions – a concert series here in Bentonville to fund our programs in Congo.
As Feed Their Tummies grew, we became overwhelmed again because it was just Dave and I managing the program and we knew we needed help. We also had a deep desire to do more than simply meeting immediate needs every day. We wanted to provide a pathway for the children and families in our program to rise out of extreme poverty and change their own communities. It was at that time, we (ecstatically) partnered with our friends at Help One Now because we saw the good work they were doing around the world and we knew we wanted to be a part of it. Their model of coming alongside local leaders to resource and empower these brilliant men and women to change their own communities is unique, impressive and the only way to sustain long-term change.
The team at Help One Now are dear friends and truly work every day to serve others. Dave and I (and our kids) have traveled to Help One Now communities in South Africa, Zimbabwe and Haiti and have met the leaders in these countries and have seen the impact of the work being done through a committed group of folks who are crazy enough to actually believe they can change the world. And, the thing is, they are. They're doing exactly that – changing the world one community at a time. It's a beautiful thing to be a small part of.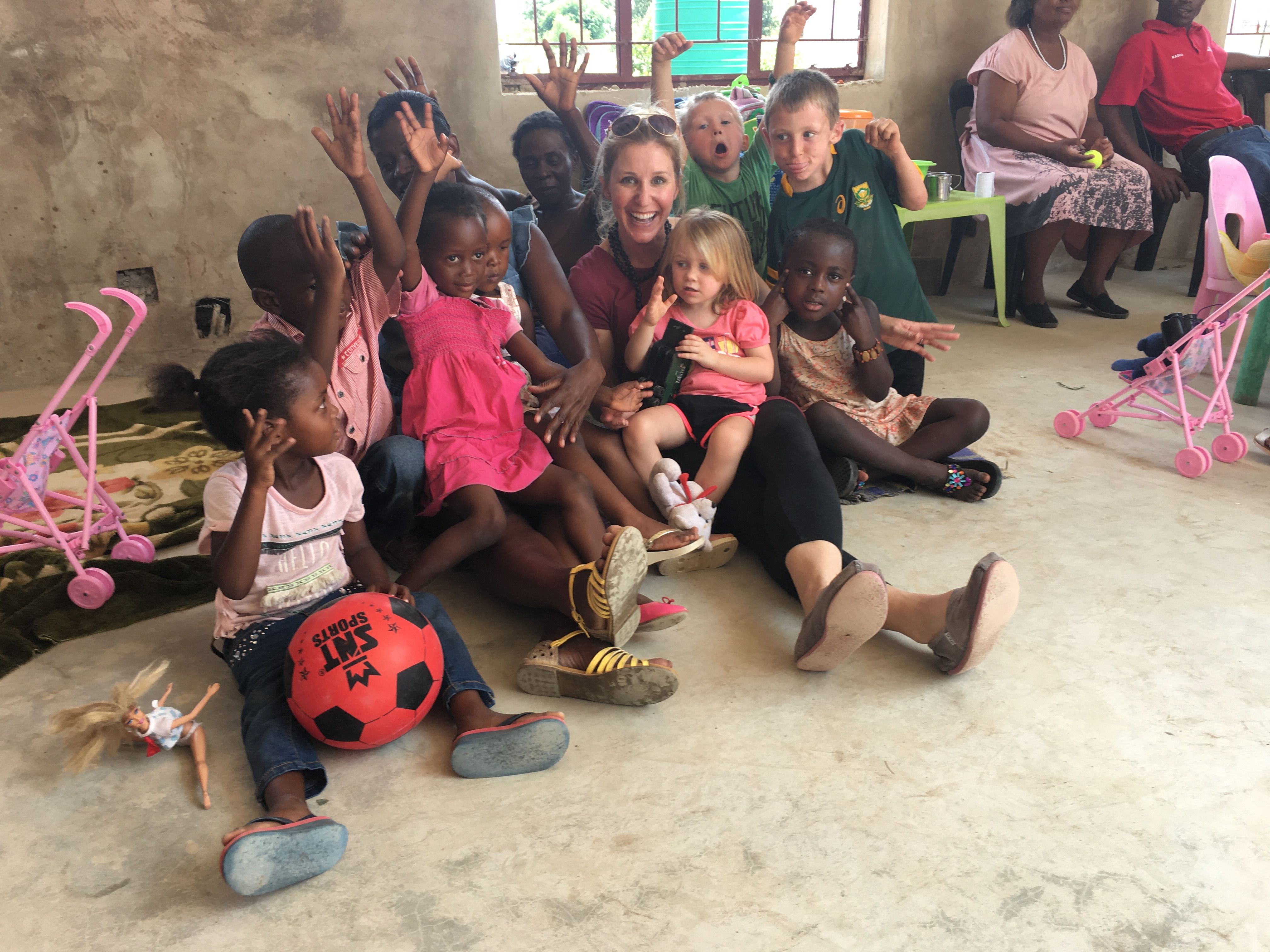 3. What was your first reaction when HGTV called you and Dave about the pilot?
We were both apprehensive. We didn't know if this was something we wanted to do just because we have a pretty full life and our kiddos are really young. We wanted to be protective of our family time and, honestly, this was just not something that was ever on our radar. Dave is the most talented builder and craftsman and I do love design and am passionate about projects we work on together BUT this is just one part of our lives. We didn't even have a business website until last month because we weren't out there trying to solicit work. We have been so fortunate to live in this amazing community where word of mouth has sustained our work for over a decade.
So, we decided to proceed cautiously and very prayerfully and just took it all in stride. We said yes to a Skype call and then yes to a team flying in to film a "sizzle reel" and then yes to a pilot. But, our lives have gone on as usual all the while. We absolutely loved our production team from RIVR Media and our network executive, Carrie Reagan. They were an absolute joy to work with and made each day of filming seem like a perfectly normal thing to be doing. We laughed together a lot and still text all the time because we have missed them all since they left after filming wrapped. We even visited everyone this summer when we drove through Knoxville on our family's road trip.
4. What is the one thing you hope viewers will learn about the Marrs family on November 7th?
Oh goodness. I am so nervous thinking about people watching that we don't even know. It's surreal! If viewers take away only one thing, I hope they can see how much we value family. Our desire for our family is to be intentional and to simplify our lives wherever we can. Our time on this earth is so fleeting and we really hope to use it well.
5. Where is your favorite place to hang out at the Farm?
Dave's answer would be his tractor. He says that is where he feels closest to God. My answer would be my back porch swing. Most every morning, I take my coffee out there to read my Bible and have a few quiet moments in prayer before the day begins. I listen to the birds singing and watch the day come to life from my comfy little perch. We also have spent countless evenings out there with our kiddos climbing the ropes or with good friends – talking and laughing and sharing our hearts. It's a special spot.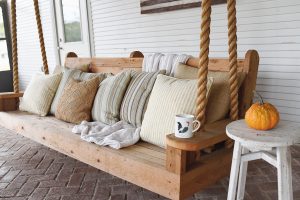 Dave and Jenny Marrs' show Almost Home premieres Tuesday, November 7th on HGTV at 10pm Central Time.