Grand Conversations | Meet our Customer the RFC Event Center
by GSB Team
April 9, 2018
At Grand Savings Bank we are our customer's biggest fans. We are proud to feature the RFC Center in Jay, Oklahoma on the Life Is Grand Blog! Their venue is a versatile space in a serene setting for any wedding, reception, reunion or company event. We just hosted our first ever Kickoff Event in February and had a GRAND time! Read below about all things RFC Center.
1. What is the RFC Center? The RFC Event Center is a 300-acre property in the Northeastern Oklahoma hills, and features two beautiful event venues, an outdoor concert stage, two guest apartments, and a 40-acre lake! We have also recently added 70 RV sites with a bathhouse, 6 deluxe cabins, and a bunkhouse, with more expansion coming soon. This will include ATV trails, fishing rentals, and a large primitive camping area!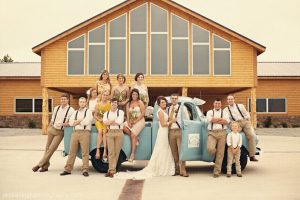 2. What was your inspiration for starting the RFC center? RFC's Original Event Center started out as a venue built to host cattle sales and stock shows, but unintentionally gained popularity as a wedding and event venue. While the original building was modified to better serve its new purpose, Jason and Gayla Robinett began construction on an outdoor venue built specifically for gorgeous, garden weddings. Our open-air Pavilion has been booked solid every fall since October 2015, and draws clients from all over Oklahoma, Arkansas, Kansas, and Missouri!
3. What is the best thing about having a business in Jay, OK? The best thing about having a business in Jay, OK has to be the community support. Many of our clients are local, and so much of our business is earned through word-of-mouth recommendations. We also hosted last year's Huckleberry Festival carnival and fireworks show in conjunction with the Jay Chamber of Commerce, and could not believe the outpouring of love and involvement from every corner of our little town. So much time and effort go into events like this, and it was a truly remarkable thing to be a part of.
4. What is your favorite type of event to host at the RFC Center? Our favorite type of event to host is probably our weddings. Seeing two families come together, and knowing that we had a hand in that celebration of love, is a great feeling for all of us here at RFC.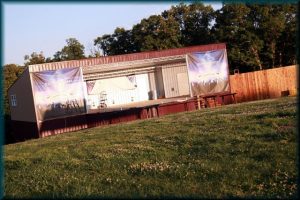 5. What community events do you have in 2018? We are so excited to host quite a few community events this year! In April we are hosting the Grand Savings Bank Junior Bank Board meeting, the Delaware County Cattlemen's Association meeting, and the Jay High School Prom. In May we'll be hosting the FFA Awards Banquet, and a Graduation Celebration. We are also very pleased to host this year's Huckleberry Festival carnival and fireworks show on the property for the second year in a row! Finally, we will be hosting the Delaware County Children's Special Advocacy Network's annual Winterset Ball on November third. This will be our sixth year to host this auction and is one of the most rewarding events. As the year goes on, we'll be posting updates on our website regarding this fall's RFC Music Fest and other community events, so stay tuned!