Grand Savings Bank Hosts 6th Annual Earth Day Shred Event | 4.20.18
by Madelyn McConnell
April 2, 2018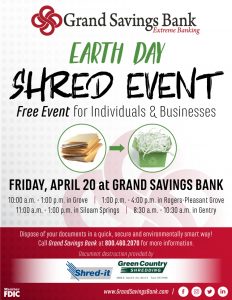 Grand Savings Bank is proud to host their 6th Annual Earth Day Shred Event on Friday, April 20th at 4 of our locations including Grove, OK, Siloam Springs, Rogers-Pleasant Grove and Gentry, AR. GSB

regularly organizes this event to raise awareness to the ongoing issues of identity theft protection and recycling and prides itself on being the first bank in Northeast Oklahoma to offer this great service to our communities. And it's by no coincidence that the event is hosted on Earth Day… it just makes sense!
Everyone is welcome whether they are customers of the bank or not. Small Business owners and individuals can take this opportunity to do a little spring cleaning and shred sensitive documents by simply bringing them to any of the participating locations on April 20th. GSB team members will be happy to assist anyone with their "shreddables". We like to think of it as helping our community prevent identity theft and saving the earth all at the same time! #LifeIsGrand
Bring us all the paper documents that you have been keeping in boxes in your closets, basements, attics, glove box or those catch-all kitchen drawers…. We all have one!   See the graphic from the Federal Trade Commission that will help you determine what and when to shred.   Please avoid bringing your shred in plastic bags and remember you don't have to worry about removing staples or paper clips!
---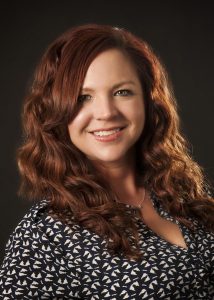 Pam Hulion began her banking career at Grand Savings Bank in High School and continued working through college, where she received her MBA from Oklahoma Christian University.  This summer will mark 18 years with GSB.   Pam received her certification of Regulatory Compliance (CRCM) in 2010.  At present, Pam is the SVP of Loan Operations and Compliance.  She currently serves as President of Friends of the Library.