Grand Savings Bank Board Member Receives Recognition
by GSB Team
June 14, 2018
At Grand Savings Bank, we find it important to celebrate team members that make life grand!  This week, we are celebrating board member, Gary Anderson, for being recognized at the Volunteer Appreciation Luncheon for Restoration Village in Rogers, Arkansas on Thursday, June 14th.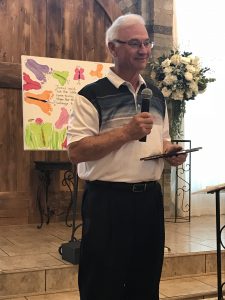 Restoration Village is a faith-based, non-profit organization that was founded in 1989 that serves as a long-term shelter for women and children who are experiencing a crisis time in their lives.  All of their residents come from a background of domestic violence and/or sexual assault.  The goal of Restoration Village is to assist the women with the rebuilding of their lives, renewal and healing for their minds, and the restoration of their souls.  The Village offers safe and long-term housing, advocacy and counseling services, equine therapy, and connections to health and legal services as needed.  All of this is offered to the women at no cost.  The average stay is between 6 months to a year.
Gary Anderson joined the Grand Savings Bank board of directors in 2013. He and his wife, Jane, reside in Rogers and have 2 children and 2 grandchildren. Gary owns and operates Anderson Electric & Plumbing and has a 980-acre farm west of Seligman, Missouri where he has a cow/calf operation with 300 mamma cows and raises broilers and Tom Turkeys. He is very involved in a variety of non-profit and charitable organizations. He began his work with Restoration Village in 2016 and has coordinated and assisted with multiple projects (small and large) including construction, plumbing, renovation and restoration, paving, painting, electrical, and property beautification.  Gary joined the Village Board of Directors in 2017.
At the Restoration Village Volunteer Luncheon, Gary, along with many others, will be recognized for their service to the Village and for the many accomplishments that have been completed over the last year which could not have been done without them. For more information about the work of Restoration Village, please visit their website at restorationvillage.net.