GSB Customer Care Center: Always here for you
by GSB Team
September 10, 2020
Meet the dream team at the GSB Customer Care Center (CCC)!
How you're treated is important to us
Have you ever called a business and gotten an impersonal recording or had to push a million buttons to get to a live person? Well, you won't get that at Grand Savings Bank. Our bank cares too much about how you're treated, which is why we're so happy to have the BEST CCC team to treat you like royalty!
Local people helping local people
We're proud to have local team members who can truly relate to our customers, like you. When you call the CCC with your banking questions or needs, you will get a REAL person who lives and works in Northwest Arkansas. This team is much more than a call switchboard. All CCC team members are thoroughly trained in customer service and have a broad understanding of our products and services. They are well-equipped to assist you with a TON of your banking needs.
Meet the GSB Customer Care Center team!
The GSB Customer Care Center is located at our Bentonville location, where each member is ready and eager to assist you with your banking needs.
Jody Abbott, CCC Manager
Magen Ellis, CCC Representative
Allie Ashford, CCC Representative
Mike Sinell, CCC Representative
Maddye McConnell, CCC Representative
Teagan Blackston, CCC Representative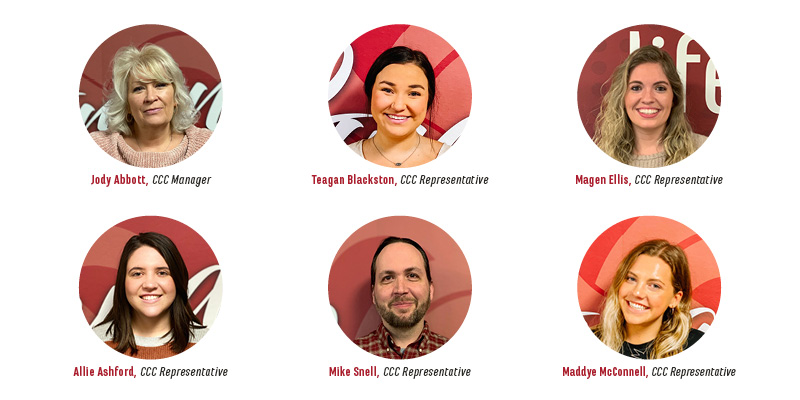 How to use the CCC
We wanted this service to be convenient for you, so we have two ways to access our team.
You can call 1-800-460-2070 and speak directly to one of our team members (no robot people here!)
Using our secure app, you can chat directly with a team member
How can the CCC team help you?
Here are just a handful of reasons you might call the CCC team:
You've moved and need to update your address.
You need to verify your bank balance or track down a past statement.
You want to order a new personalized debit card.
You have a question about a mobile deposit.
You've accidentally locked your online banking account and need to reset it (don't worry, we've all done it!).
As we mentioned before, how you're treated is important. THANK YOU for letting us take good care of your banking needs!!