GSB Honored with Marquis Award for Junior Board Program
by GSB Team
November 5, 2018
Grand Savings Bank is paying it forward, and it shows. Recently recognized by EPCOR® at their Fall Conference in Overland Park, Kansas, GSB's Grove, Oklahoma branch was awarded the Marquis Award by the organization's CEO, Ann-Marie Bartel. The award was established by the association in 1990 to recognize individuals and organizations that exemplify best practices in electronic payment implementation and expand awareness and utilization of ACH payments.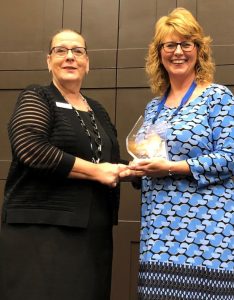 Leah Morgan, GSB's Chief Operations Officer, accepted the Marquis Award in recognition of Grand Savings Bank's "Junior Board" program which educates high school students about the various aspects of financial services such as applying for a loan, investing, cybersecurity, and so on. As juniors, students can apply for a seat on the bank's Junior Board by submitting an essay outlining their reasons for wanting to participate.  Once selected, the "Board" members work with all departments and levels of staff by participating in monthly meetings and community service projects.  GSB also hosts field trips to the state capital and local bank businesses
"I'm pleased that Grand Savings Bank was nominated for a Marquis Award for their Junior Board program. It's an exciting time to be in the financial services industry, and it's important that all financial institutions help the next generation of bankers understand and explore the business opportunities our industry offers," Bartels shared.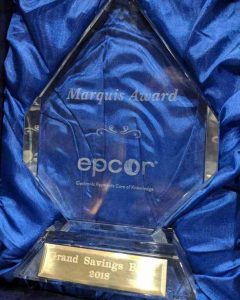 For more information about participating in GSB's Junior Board, contact Kelsey Rhine at krhine@grandsavingsbank.com