Heart Disease: The Silent Killer
by GSB Team
February 11, 2019
Heart disease doesn't discriminate. It can strike anyone, anywhere, at any time. There is a reason it is known as the silent killer.
In 1988, I was a single mother of 2, working 3 jobs. One of my jobs was at a bank where I was working when I started feeling light headed and then like I was being stabbed in the chest. At the very young age of 23, I was having a heart attack. Fortunately, the heart attack was a mild one, and I only spent one week in the hospital where I was diagnosed with Bigeminy, an abnormal heart rhythm in which there is a continuous alternation of long and short heart beats. Essentially, it can cause too much blood to flow through the arteries and valves which can cause problems. To treat my condition, I was given beta blockers to prevent a second heart attack and control the rhythm. Even though it was scary, I figured it wasn't a big deal and just something I would learn to live with.
Fast forward 13 years to 2001, and I am a single mother of 3, working 2 jobs, attending baseball games, school plays, and orchestra concerts. I worked out 5 times a week, and I was in the best shape I had ever been in. On the outside I was as healthy as a horse, but little did I know, I was dying. My left arm had been hurting for some time, and when my sister came to visit, I told her I must have strained a muscle at the gym. She informed me that I wasn't using the left side of my body and that my eye and mouth were sagging. As it turns out, I had been having a slow, steady stroke. The silent killer was back, and this time, it was a huge deal. After having an echocardiogram (ultrasound of the heart) and an angioplasty (heart catheter), I went in for emergency open heart surgery at Washington Regional Medical Center. The cardiologist explained that my mitral valve had been dead for about 3 years and that I was 'a walking miracle' because I shouldn't have been alive.
As of today, I have had 1 heart attack, 2 strokes, 3 open heart surgeries, 4 devices, and I am living with congestive heart failure (CHF), and I am on the heart transplant list as a Level 2 recipient with Baptist Heart Health Transplant Institute in Little Rock.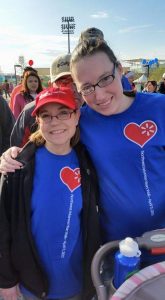 Living with heart disease is not something I ever expected to have to do. I think that one of the reasons it is so dangerous, especially for women, is that this disease can sneak up on us. It is so silent, and we tend to make everybody and everything else a priority, so we often ignore or refuse to consider that there is a problem. I was lucky, but I was also informed enough to take action before it was too late. That being said, there are two points I want to make about heart disease. First, age is irrelevant; heart disease can happen to anyone at any age, and secondly, support from friends, family, co-workers, and organizations like the American Heart Association is critical.
The AHA works tirelessly to get the word out about heart disease and stroke, but they can't do it without our help. Our donations help fund support groups, research, literature, and education to help fight this disease because when it happens to one, it affects everyone in the circle. At 23, I had no idea just how serious my problem was, but I am 54 now, and I am making it my mission to spread the word about the importance of the American Heart Association.
During the month of February, all Grand Savings Bank locations will be selling hearts for $1 to help the AHA continue their research, spread the word, and continue giving love and support for all those with or affected by heart disease. Won't you join me in supporting your local AHA? You'll be glad you did.
---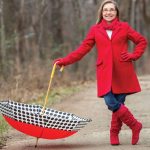 Allie Carr is a Loan Assistant at Grand Savings Bank in our Bentonville location. She has been in banking for 37 years.  In her 37 years, she has had the privilege of being able to work in all areas, but lending is her favorite.