The History of Valentine's Day
by GSB Team
February 13, 2019
Ah, it's that time of year again. Flowers are being delivered all over the office, the break room is stocked full of candy and chocolate your coworkers are trying to get rid of, and your inbox has at least one flashing eCard saying, "Happy Valentine's Day, Everybody!" February 14th is truly is a wonderful day (and provides the whole office with flowers and sugar), but where does Valentine's Day come from and why do we celebrate it? Have you ever thought about the history of Valentine's Day?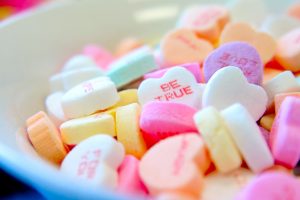 Truth be told, there is a lot of mystery surrounding the origin of Valentine's Day. There are several myths and legends surrounding the holiday, ranging from the Catholic Church to Chaucer writing in the Middle Ages to soldiers writing their loved ones throughout history. Possibly one of the most popular legends depicts St. Valentine as a priest living in 3rd century Rome. At the time of St. Valentine's life, Emperor Claudius III was the leader of the Roman Empire and focused on building a vast and strong army.
In his reign, Emperor Claudius III decided that married men made for more distracted soldiers; consequently, he outlawed marriage for young men serving in his army. Legend has it that St. Valentine was morally-opposed to this law and therefore married young couples in secret. Hence, coining the term "valentine" to mean celebrating or coming together for love.
The first known valentine was sent by Charles, Duke of Orleans, in 1415. He sent a poem to his wife while being held as a prisoner of war. He called his wife his "valentine" and solidified the term for generations to come.
But Valentine's Day as we know it began to be celebrated centuries later. Between the 17th and 18th century, people all across the world started sending letters and gifts to their loved ones. The holiday really took off in the 20th century when new printing technology allowed consumers to buy printed cards and postage became cheaper, allowing everybody the opportunity to send a valentine.
Today, millions of Valentine's Day cards are purchased each year, and people all over the world are wishing a Happy Valentine's Day to their families, friends, and loved ones. Now you can be the history buff in the office and tell everyone the origins of Valentine's Day.
Happy Valentine's Day from Grand Savings Bank to you and your loved ones!