Hometown Roots | Martinez Leads GSB Team in Gravette
by GSB Team
December 5, 2017
I have lived in Gravette my entire life. My family and I moved to a farm West of Gravette in 1972. I married my husband in 1987, had our son in 1990, and we built our dream farm in 1992 South of Gravette.
In January 1991 I began my banking career in my hometown of Gravette. I had worked 23 years for the bank until April of 2014; I took a leap of faith. I accepted an amazing employment opportunity with Grand Savings Bank. Although it was a scary move for me, it was one of my best career decisions. I started at the Grand Savings Bank Bentonville branch and worked there for six months. Little did I know this is when all the fun would kick into high gear. Grand Savings Bank purchased what was previously known as Decatur State Bank, and I was given the challenge and opportunity to help lead the merger. I was going to be managing the new branches, and it's amazing how much this has allowed me to learn and grow in my career.
Fast forward to late 2016 when a decision was made to purchase an old building in Gravette at the corner of Hwy 72 and 2nd Street. This building had previously served the Gravette community as a church, bank, and fitness center. The building was purchased in March 2017, and has gone through a massive remodel, and is now open for business! This is our 11th branch that serves our customer's needs in Northwest Arkansas and Northeast Oklahoma.
I'm not much of a visionary when it comes to décor and doing remodels; so I had a hard time with how the end result would look. I'm here to tell you; everyone is going to be so impressed by the look of this new branch. I walk into the building now and say "I am so proud this is my branch!" This building is gorgeous! None of this would have been possible without the vision and hard work of our Chairman, Tony Steele, and his hard-working crew and contractors. I want to give a huge thank you to Raegena Davis for her ability to make decorative decisions which are not my forte at all. Finally, I want to thank Tyler Steele for always being there for me. He was able to talk me off the edge when I was in full-blown crisis mode. This branch was a joint effort among a lot of people, and I want to personally thank each of you for your part in making my dream of coming home a reality!
I feel like I am coming full circle. Work took me from my hometown for a period of time, but I am beyond excited to be coming back home. Gravette is my home, my community, and my people. I can't wait to show my hometown all the great things that Grand Savings Bank has planned for our community.
GRAND SAVINGS IS ON THE MOVE!
---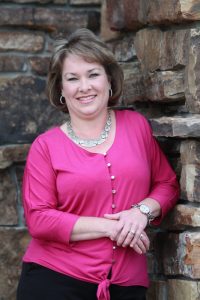 Carla Martinez is a native of Gravette where she lives with her husband, Orlando, whom she has been married to for 30 years.  She has one son, Justin, and his wife, Miranda which also lives in Gravette.  She has been working in the banking industry for 27 years with her most recent position serving Grand Savings Bank as Market President for Western Benton County.  She participates with the Chamber of Commerce in Gravette and Decatur and serves as Treasurer for the BCFA.