Grand Anniversaries | Elaine Gardner Honored for 30 Years of Service
by GSB Team
January 5, 2018
Grand Savings Bank recently honored several team members for their years of service at their annual Christmas Party on December 16th. Chief Financial Officer, Elaine Gardner, was among those honored for her 30-year tenure at Grand Savings Bank.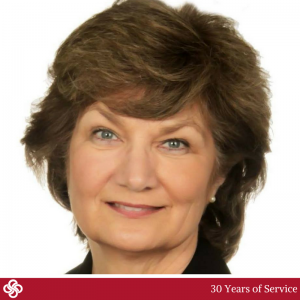 Elaine began her banking career in 1977 in the trust department at Fourth National Bank in Wichita, KS clipping bond coupons. She wrote her first million dollar check at that bank. She loved helping people improve their financial positions and learn the benefits of savings.
She joined Grand Savings Bank in 1987 when it was a federally charted savings and loan working through the national savings and loan crisis and was also the smallest bank in town. Fourteen years later, when the bank converted to an Oklahoma State Banking charter, Grand Savings Bank had grown by nearly 770% and was the best bank in town.
Today, GSB has 11 locations and continues to grow in size and Elaine has been a big player in all of it. "It is amazing to look back at our growth and realize that what once only required one person to accomplish, now requires an entire team, " Gardner said. "I have had the privilege of training and working with some of the best and smartest people around."
In addition to working at Grand Savings Bank, Elaine has served as the pianist for Bible Baptist Church in Grove, OK and is a published author, recently releasing her book Arms Wide Open.
Several other team members were highlighted for 20, 15, 10, and 5 years of service:
20 Years
Meredith Renfroe, Branch Operations Officer/Vice President
Marsha Tackkett, Customer Service Representative
Margie Nutter, Vice President/Network Administrator
Judy Nation, Loan Officer/Assistant Vice President
Melanie Sixkiller, Branch Manager/Assistant Vice President
15 Years
Mike Blecha, Loan Officer/Senior Vice President
Steve Odle, Security Office/Loan Officer/Vice President
10 Years
Bee Kue, Head Teller
Patricia Kinzey, Head Teller
Raegena Davis, Branch Manager
Deborah Matthews, Information Services Department
5 Years
Tyler Steele, Vice Chairman/Loan Officer
Meghan Scott, Loan Assistant
Ashley Dysart, Loan Processing
Theresa Smith, Bookkeeping
Jerry Dover, Teller