Life is Grand on the Lake!
by GSB Team
September 17, 2019
It doesn't get any grander for GSB's Grove Market President, Dustin Able than on Grand Lake. Having called Grove, Oklahoma home for most of his 24-year career with Grand Savings Bank, you can hear the affection in Dustin's voice when he speaks of his home and his community.
A 1995 graduate of OSU, Dustin started that same year as a courier between Grand Savings Bank's only two branches at the time – Grove and Jay. Since then, he has touched just about every aspect of banking, from conducting cattle, equipment and construction inspections to collections to assisting an Executive Vice President, Dustin learned bank operations from the ground up. That expertise, combined with his love for and his knowledge and understanding of his community are precisely why he currently serves as Market President at GSB's Grove branch. 
We truly appreciate what Dustin brings to Grand Savings Bank and to the Grove community, and we want our online GSB community to know him too.  So, we called him up and asked a few questions.  
GSB:     So, Dustin. You have pretty much been in Grove since you graduated from college. Why?
DA:      I grew up in a small community, and I knew when I graduated that I didn't want to live or work in a big city. I really didn't want anything to do with the "rat race". Grove was perfect for me because it has that home town feel with lots of extra amenities, but it's also an easy drive to larger towns and cities when I felt like it.  I love golfing, boating, and spending time with family and friends. Living here lets me do all of that and a whole lot more.
GSB:     We know that being on the lake is your happy place. Tell us about that.  What is it about the Grand Lake that is so… well… grand?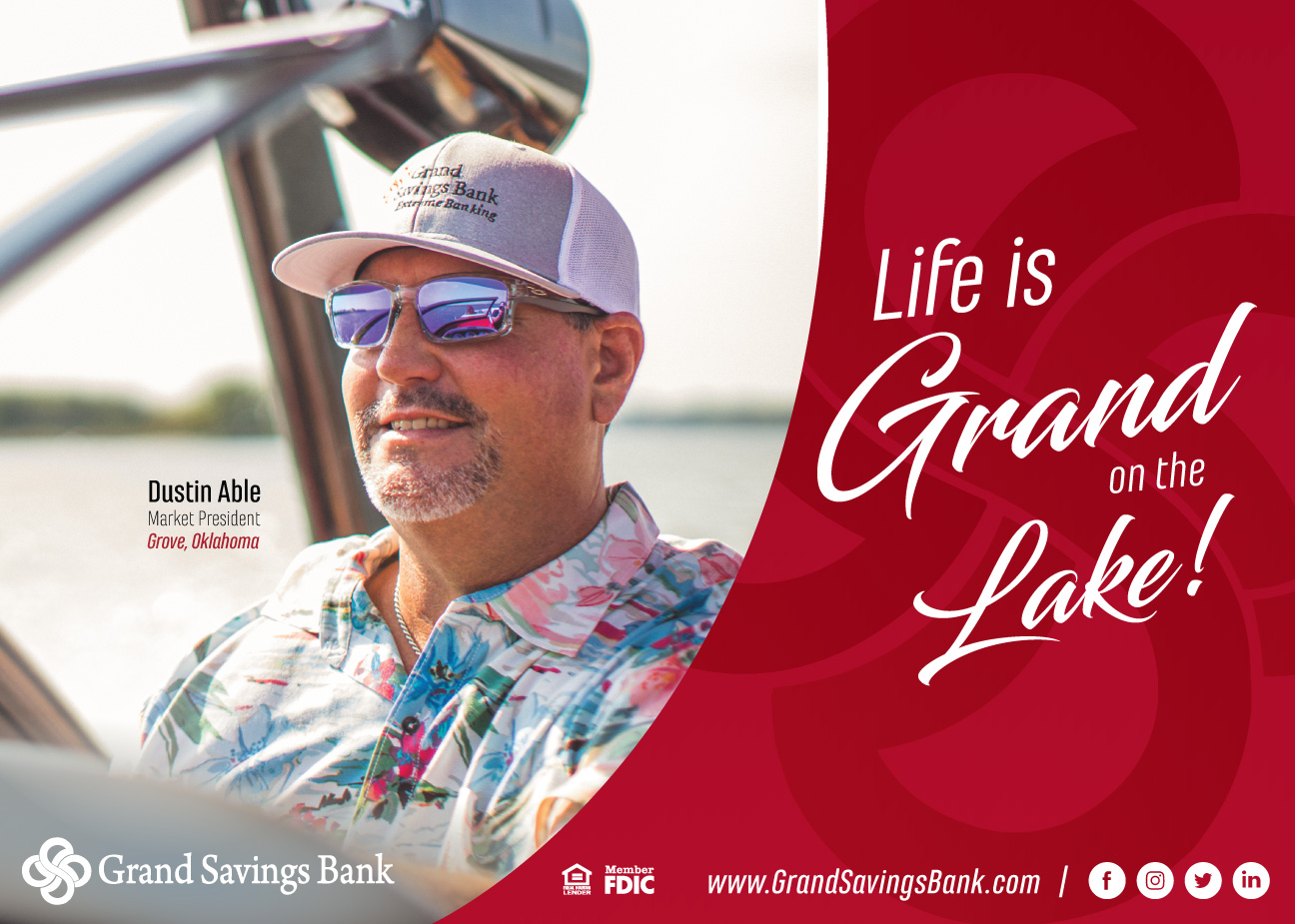 DA:      (laughs a little to himself) What's not to love? First of all, it's convenient. I can hop in my boat and enjoy a relaxing ride on the lake or go grab dinner at one of the many restaurants (some of which are easiest reached by water) pretty much any time I want. Summer months, especially, are always busy for us with friends visiting, and it gives us a chance to show off what all Grand Lake has to offer.
Secondly, I love that Grand Lake attracts tourists, which in and of itself, boosts our local economy, but many of those people who come here on vacation end up coming back on another trip or even buying a second home here.  That's real growth. Then there's also the fact that I'm a golf nut. The golf courses around here are first-rate, and I play them any chance I get.
GSB:     Dustin, we have known you for a very long time, and you have been in the unique position to not only see but to be a real part of Grand Savings Bank's growth and expansion. You have been with GSB for two and a half decades. That's a LONG time. What keeps you here?
DA:      I love the small community bank atmosphere we have at GSB, but I get a real kick out of the fact that our "small town" bank provides all the same services as any large bank. We, however, do it on a much more personal level. Our associates are experienced and knowledgeable, and they are committed to giving every GSB customer personal, one-on-one service.
We are also locally owned, so we have a vested interest in every community where we have a branch.  Our mission statement truly does reflect the GSB way, and it's something all of us take to heart.  "We are a community bank where life is grand and our team is empowered to deliver the best financial experience to our customers."
Dustin also serves on the Grand Savings Bank Board of Directors and resides in Grove, Oklahoma along with his wife Jill and daughter Taesi.
---
Grand Savings Bank is a full-service community bank providing a diverse line of financial products and services to individuals and business customers. We offer 12 locations and 11 ATMs in Northeast Oklahoma, Northwest Arkansas, and the River Valley.
#LifeIsGrand