October is Cybersecurity Awareness Month
by Madelyn McConnell
October 18, 2019
Own it! Secure it! Protect it! In today's online world, it is critical that each and every one of us make sure that our online lives stay safe and secure.
October is National Cybersecurity Awareness Month (NCSAM), and it is important to get the word out to our Grand Savings Bank community.  GSB is proud to promote the online safety awareness and education efforts headed up by the National Cyber Security Alliance (NCSA) and the Cybersecurity and Infrastructure Agency (CISA) at the U.S. Department of Homeland Security.
According to a Trend Micro report, 94% of targeted emails use malicious file attachments as an infection source. The remaining 6% using alternative methods such as installing malware through malicious links. More than 70% of attacks are installed through common file types like .doc or .pdf.
A recent article in CPO Magazine also estimates that cyber-attacks will result in more than 2 trillion (yes, TRILLION) dollars in 2019 and will surpass 6 trillion dollars by 2021. From ransomware to data breaches to malicious emails, only 10% of cybercrimes are reported in the U.S., often because they are difficult to prove. So how can you keep yourself safe from cybercriminals?  Here are some practical tips we all should be using.
Protect your computer– Install software that protects against malware or malicious software, that can access a computer system's passwords and account numbers.  Firewall programs prevent unauthorized access to your PC.  Make sure the settings allow for automatic updates.
Use STRONG passwords to log into financial accounts– Create "strong" user IDs and passwords for all of your computers, mobile devices, and online accounts. Use a combination of upper and lowercase letters, numbers, and symbols that is hard to guess, and then change them regularly.  Using the same password or PIN for multiple accounts means the criminals only need to obtain your favorite password or PIN once to have access to all of your accounts.
Know Internet safety features– You can have greater confidence that a website is authentic and that it encrypts (scrambles) your information during transmission if the web address starts with "https://."  Log out of financial accounts when you have completed your transactions, and never leave your computer unattended.
Don't click on links or download attachments from unsolicited e-mails and NEVER provide account information – It is very easy for cybercriminals to include a logo from a reputable company or organization into a phishing email.  By responding to what looks like a legitimate request, you may be actually installing malware.  Ignore and delete unsolicited requests, no matter how legitimate or enticing they appear.
Be careful where and how you connect to the internet– Only access the Internet for banking or for any other activity that involves your personal information on your own laptop or mobile device using a known trusted secure connection.  Public computers, such as those at a hotel business center or public library, and free Wi-Fi networks are often not secure, and it is very easy for cybercriminals to intercept the Internet traffic in these locations.
Be careful when using social networking sites – Cybercriminals use social networking sites to collect detailed information about their targets, including details like where you work, the place and date of your birth, your pet's name, your mother's maiden name, along with all kinds of other information that helps them figure out passwords. And once they have that information, they can reset your passwords, leaving you without access.  Don't share your "page" or access to your information with anyone you don't personally know and trust.  Cybercriminals will pretend to be a friend in order to convince you to send money or get you to divulge personal information.
Take precautions with your tablet and smartphone– Automatically updating your device's operating system and "apps" can help reduce your vulnerability to software problems.  Never leave your mobile device unattended and use a password or other security feature to restrict access in case your device is lost or stolen.  Make sure you enable the "time-out" or "auto-lock" feature that secures your mobile device when it is left unused for a certain period of time.  Research any app before downloading it, including consulting your financial institution's website to download its official mobile application.  You can get Grand Savings Bank's app here.
Educate yourself– To learn more about cybersecurity, visit the "Stop. Think. Connect." resources at www.stopthinkconnect.org/.
Check out ways to participate in and support NCSAM on social media, at home, work or school and in the community by visiting the National Cyber Security Alliance website at staysafeonline.org.   Most importantly, though, educate yourself about cybersecurity and stay up to date with the latest security requirements.
Own IT. Secure IT. Protect IT.
---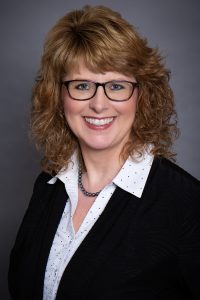 Leah Morgan, Chief Operating Officer

I am a lifelong resident of NE Oklahoma; I have a Bachelor's degree in Computer and Information Sciences from Northeastern State University.  Being a small business owner for several years, I understand an "all in" attitude when it comes to being successful. In 1999, I became an Accredited ACH Professional (AAP), and truly enjoy all areas of payment systems.  I am currently the Chief Operations Officer and Information Security Officer at Grand Savings Bank helping to establish vision, strategy and protection of our information assets and technologies. I enjoy giving back to our community through the Delaware County Historical Society and many other local organizations.
I have three sons, Jacob, Taylor and Kaden.  I am engaged to my sweetheart, Terry. We love football, Go Jay Bulldogs, Boomer Sooners and Kansas City Chiefs!  I enjoy gardening, diving, live music and history.