GSB Family Gets to the Heart of the Matter 
by Madelyn McConnell
January 31, 2019
Throughout the month of February, Grand Savings Bank will be selling hearts for $1 each with all proceeds going to the American Heart Association.
We've all heard it over and over. Heart disease is the #1 killer of both men and women in the U.S., but too often, it just seems like another statistic, at least until it hits home. And that's exactly what it did for my family in April of 2015. In my mind, we were the picture of health. We were active, ate a reasonably healthy diet, and had no family medical history of heart disease that we knew of.
I remember "that day" like it was yesterday. It was Good Friday, and I had made plans with my husband, Britton, to meet up and do some Easter shopping for our two sons, but he never showed. My seemingly fit and healthy husband experienced a major cardiac event which caused him to pass out behind the wheel and resulted in a serious car accident. That day changed everything.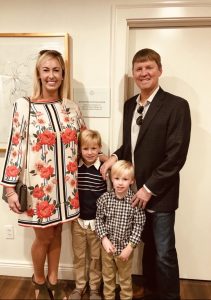 We learned that Britton had a genetic heart condition called Arrhythmogenic Right Ventricular Cardiomyopathy or ARVC, and, at the very young age of 35, he was implanted with an ICD defibrillator/pacemaker at Washington Regional Medical Center in Fayetteville before being sent to a specialist at the Mayo Clinic.
ARVC is an inherited disease, so we are now going through the process of genetic testing for our boys and other family members. Britton survived that day, which we've been told repeatedly was a miracle. There simply are no words to express how thankful I am, but gratitude isn't enough. I have made it my mission to find out as much as I can about the disease.
My family continues to adjust to the changes as we figure out how to live with this disease and prepare ourselves for the lasting effects it has, both physically and mentally. While there remains a certain amount of fear and uncertainty, knowledge and preparation help to relieve some of the anxiety. As a sports mom to our growing, sports enthusiast boys, I am always in the front row, cheering them on, but you can be sure that wherever we are, I know where the AED (Automated External Defibrillator) is located and how to use it.
During the month of February, my family at Grand Savings Bank will be selling hearts for $1 each. 100% of our Heart Sale proceeds will go to the American Heart Association which supports research, education, and care for people like me and my family – and yours. I pray that you never experience "that day" like we did, but be assured it's more than just a statistic, and your contributions will help us at GSB get to the heart of the matter in support of the American Heart Association.
---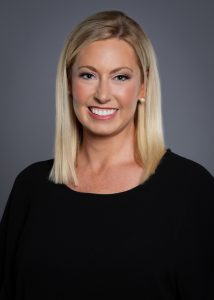 Holly Wheeler is the Vice President and Team Lead in our Fayetteville location. She has more than 17 years experience in the banking industry and is an active and devoted member of the NWA community, she earned her degree from the University of Arkansas and has been certified by the American Banking Association Lending School.